Interview: The Montreals
The Montreals have been busy lately.  They've been consistently providing us with sweet social media content, rubbing shoulders with the Red Hot Chili Peppers and designing merch that Tyler The Creator would wear (probably).  Oh and also releasing ANNOYINGLY CONTAGIOUS SONGS THAT DON'T LEAVE YOUR BRAIN AND YOU SING THEM UNTIL YOUR CO-WORKERS SHIFT THEIR DESKS TO GET AWAY FROM YOU.  How rude.
Fittingly, the name of the particular earworm referenced above is 'Rude' and the lead singer/lyricist of the band Stefan told me that the song came about from working in hospitality and dealing with the public; which is effing relatable if you've ever been clicked at as a waiter or just treated like shit in general by one of the many arse-hats that walk among us.
"A while ago I was doing lots of work in hospo jobs and I think I just was getting sick of people.  Honestly some people were just so rude!  Like, 'AMEX.  No receipt boy', you know what I mean? Things like that.  But I guess there's that clarity in the chorus where it's like, 'I know what you are.  You're just rude.  And it's fine.'  There's that moment where it doesn't matter, it's all good.  There's some sort of release there."
He's a bigger person than I am with his evident ability to shrug the irritation off, but there's a method to his madness.
"Sometimes it's hard for that not to affect you and you've got to carry their trash energy on.  But if you can just kind of be above it . . . just be like, 'You know what?  They're rude.  It doesn't matter.'  You know?  Spit in their drink (laughs).  Nah I'm kidding.  You know what I mean?  Like it's fine."
I mean, I know he was joking about the drink spitting thing, but seriously, why would you fuck with people that handle your food and have that kind of power?  Anyway, shrugging those grievances off and moving along, The Montreals have just released their latest single, 'Lilac, I Think' and it is being met with a lot of love from reviewers on triple j's 'Unearthed' platform.  The song sounds like the fun 'Montreals we have come to love, yet lyrically, the song takes a stark and seemingly contrasting turn in a similar fashion to Foster The People's 'Pumped Up Kicks' – only less massacre-y.
"It's deep and perhaps even sensitive content matter, but done in a sort of fun way – like you're dancing to some real sad shit.  I think that's probably some sort of weird reflection of myself as well and how I deal with things."
Conflict looks as though it's set to be an intertwining theme that runs throughout their forthcoming EP Horror Movies, which doesn't quite have a release date yet.
"It's either going to be late this year, or early next year.  It's a tough one.  Basically as soon as it's written and done, it'll be straight out.  It's all kind of in the works right now, but I'm super excited because I think with an EP you can kind of just get more depth with it.  You can have a bigger arrangement of voices and sounds and things like that.  With singles you feel like you need to jam so much [in] because it's just this thing in isolation but when you have a whole family of songs, everything can sort of take its own space, which is really cool.  Yeah, I'm super keen."
As the chief lyricist of the band, it's promising to know that he's excited about how the EP is taking shape, but is there ever conflict within the band during the creative process or even awkward encounters around the sound/content of a song when initially presented to the band?  Stefan assured me there is not.
"There's a lot of trust we have with each other, which is really nice when we put something forward.  I mean we're not afraid to say, 'Hey, that's maybe not it', but I think there's a lot of trust as well that when someone's keen on something, we're like, 'Alright, maybe there's something there', and we'll kind of generally at least see it out/see if it is something cool.  We're just keen to be making music . . . and for it to be going the way it is, we're all just stoked."
It's not hard to see why they're stoked, they recently got to open for the Red Hot Chili Peppers in front of 40,000 people.  So they're certainly hitting those highlights already.
"Yeah, that was huge.  That was insane.  It didn't really hit me until… you know the idea doesn't hit you until you see that many people and you're like, 'Alright . . .  Holy heck.'  That was so much.  And everyone there was really nice.  We were sharing a little room with George Clinton and his whole gang in this little cafeteria . . . backstage area – it was so much fun.  We were just all hanging out.  Man that was such a good day.  [The] Chili Peppers were all just hanging out back there, very casual.  It was one of those things where, you're like, just trying to stay/keep it cool, which isn't very casual.  That's a bucket list situation.  This year though, has just been nuts; like we did that and then a couple of weeks later we played Groovin' The Moo as well.  That was insane.  It's just like heaps of really cool things happened back to back.  And then we just came back from New Caledonia last night, playing a festival over there.  It's been crazy."
Not short of international fans, The Montreals also have quite a following in Japan after a couple of their songs featured on a massive Japanese Netflix show called Terrace House.  The guys plan on touring there when they get a chance, but until then, gigging around Australia hasn't lost its appeal, with Stefan remarking that there is a noticeable difference between touring the big cities here.
"I think Adelaide is very young.  It feels like there are lots of artists just popping up and starting to make their own way, which is really exciting.  It feels like at any moment someone is going to drop a hit.  Everyone is starting to blossom, whereas when you go to Melbourne and Sydney, I think there are a lot more developed artists, further into their career.  [The Adelaide music scene] is really cool to be a part of. . . . it's a very supportive network as well . . . and the shows have a real vibe/intimacy.  Go Adelaide!"
Adelaide is definitely known for its intimate live music venues, so if you're ever in town, do yourself a favour and get to a gig, especially if yer boys The Montreals are playing!  Also be sure to cop some sweet 'Montreals merch while you're there, as it legit could rival Tyler The Creator's GOLF WANG brand with its bright colours and design – and the guys designed it themselves.
https://www.instagram.com/p/Br6i6AslZTc/?utm_source=ig_web_copy_link
"We do everything; we try to keep our fingers on everything.  We have a very specific way we want the visuals to be/to match and feel like it's a whole package.  I love Tyler The Creator for sure.  Personally, I get bored easily, so things need to be very colourful.  I love it just being bright and fun and again, I kind of feel like it goes with the music.  Like if it was just a grey shirt, I don't think it'd be right.  I think we're gonna do some fun ones with this new single as well – I'm thinking purple/lilac.  There's some cool merch coming as we speak.  Yeah, I love it.  [It's] just another way to express the song, in a different format, which is really cool.
Quick 5:
Best Horror Movie?
Oh that is so tough.  I liked Halloween.  I know this was supposed to be a quick question, but I used to love 'em when I was kid [and] now I can't stand them; and I'm, like, afraid of them.  I think the whole thing with the EP is how you can change/how your behaviours change – anyway, there's a whole layer of metaphors in there, but back when I was a kid I used to love Halloween . . . and anything with a doll is just terrifying.  It'll send me straight to buying a night light.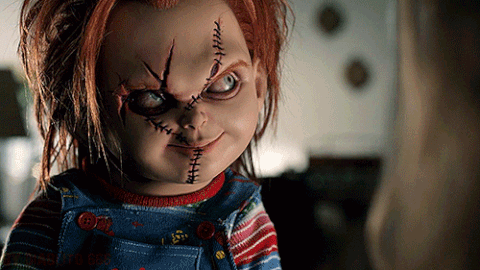 Most annoying habit of someone in the band?
I have some annoying habits.  I hate elevators.  Whenever we tour, I have to get a hotel room that's not above ground or second floor, and I think that's definitely annoying.  I just hate high-rises; I'm like, 'No. Thank you.'
Last album you had on repeat?
I loved IGOR and then I went back to Flower Boy, because I like Flower Boy better, I think. That's the biggest album I've been listening to in a long time.  That and Malibu [by] Anderson Paak – also an older album, but those two are so classic for me.
Is it lame or cool to wear band merch to that band's gig?
Oh my God, so cool.  That's like my favourite thing.  That blows my mind every time it happens.  Please do that, I think it's the nicest thing ever.  They're like, wearing their support.  Definitely cool.
You guys celebrated 200,000 streams of 'deadheads' with a Cheeto bath.  What will you do when you hit a million?
We've gotta keep going up and up.  Not to [give] too many spoilers, but I booked in a meeting with a guy who owns monster trucks.  So we're gonna do something fun there I think.  You've gotta stream it to see it.
https://www.instagram.com/p/BpN0y4hAIgW/?utm_source=ig_web_copy_link