I think the next emoji they need to invent is just like the 'heart-eyes' emoji but one with heart-ears, because I would 'heart-ears' the shit out of Trent-Jean's "debut" song 'Manchester By The Sea'.  Look, I even went to the effort of creating one: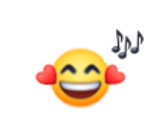 n.b. I added the little music notes because the heart-ears alone just look like little mittens kind of reaching for a hug maybe?  But I digress.
I think the word "debut" could be used pretty lightly in this scenario because a quick Google search shows that despite being only 23 years-old, Trent-Jean Michel has been working hard for a long time to perfect his craft.  There are clips of him playing acoustically on YouTube dating back to 2012, which by my calculations places him at about 15-16 years old at the time, but the vocal talent and potential were exceedingly evident even then. Apparently I'm not the only one who thinks so, as he was also the youngest person to be accepted into the singer/songwriter program at the prestigious (and bloody hard to get into) Western Australian Academy of Performing Arts, as well as being the youngest person to perform at The Ellington Jazz Club.